Women in technology led to Gender Equality Award
The winner of this year's Gender Equality Award, Simula Research Laboratory, is applauded for its outstanding progress and well-integrated plans for gender equality. But the institute could have an even higher level of ambition, according to the KIF Committee's recommendation. 
"If someone had said five years ago that Simula would receive a gender equality award, you would have thought it was a bad joke," says Aslak Tveito, Managing Director of the young research institute.
"With that said, we have worked hard with the application and our programme of gender equality efforts," says Tveito. 
"But we are still surprised, and not to mention very pleased."
Simula is a young research institute that conducts basic research in a male dominated field – software, hardware and communication technology. Established in 2001, Simula Research Laboratory has garnered acclaim in international assessments for scientific quality and efficient operations. Its name comes from the programming language Simula, which was developed in the 1960s.
The Gender Equality Award is presented by the Ministry of Education and Research, and on 14 January 2013 it was awarded for the seventh consecutive year. This is the first time that the prize has gone to a research institute.
"Simula has world-class research groups, they hire only the best, and they know that the best is found among both women and men, and from all countries," says Minister of Education and Research Torbjørn Røe Isaksen, and he continues:
"They prove in practice that diversity can contribute to international success and research excellence."
Reached its first target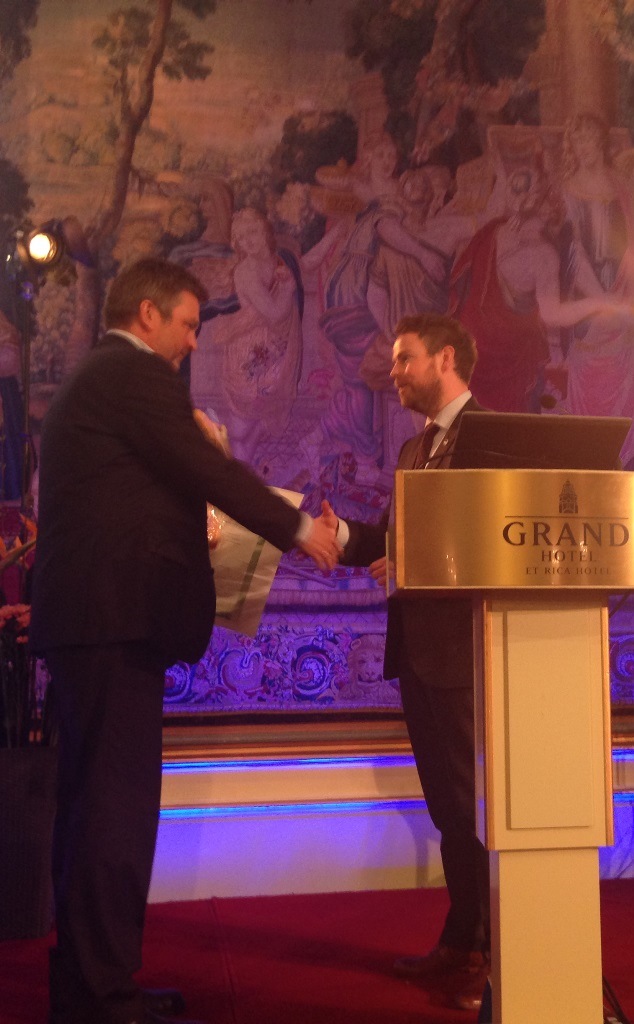 In its recommendation to the ministry, the Committee for Gender Balance in Research (the KIF Committee) emphasized Simula's targeted, ambitious efforts to promote gender equality through its Gender Action Plan, which was implemented in 2009.
"They demonstrate that if you have good working conditions, you also produce good results. Gender equality activities are an important part of this," writes the committee in its recommendation, which praises the winner for "ambitious, well-documented and well-implemented work to improve the gender balance at the institution".
One of Simula's objectives has been to increase the proportion of women in scientific positions from 19 to 25 percent by 2015. The institute has already reached this target – today 26 percent of its scientific employees are women. Simula's research fields have a very low proportion of women at the master's level, approximately 20 percent, and one of the institute's measures involves cooperation with upper secondary schools to inspire more girls to choose mathematics, natural science and technology subjects.
Among Simula's other measures to promote gender equality are direct headhunting of female researchers, gender balance on the boards, family-friendly working conditions, and training in gender balance for the leadership.
Gender equality important for Norwegian economy
Torbjørn Røe Isaksen emphasizes that gender equality efforts are important from the perspective of fairness as well as for the working environment and progress within academia and the business sector.
"KIF chair Curt Rice has said that 'making the workplace better for women is the same as making it better for everyone'," notes Isaksen. 
"Talent as a starting point and in terms of nature is equally distributed between women and men, so of course we must ensure that everyone has an equal opportunity to use their talents," says the minister.
"Women's liberation has been advantageous, not only for our social ideals about what is right and fair, but also for the Norwegian economy, for Norwegian trade and industry, and for Norwegian academia."
Wants to be even better
Now Simula's target is to have 30 percent women in scientific positions by 2022, an increase of four percent over today. In its recommendation, the KIF Committee comments that the institute could set their level of ambition higher. 
"And there is no doubt that this award is a motivation to do just that," says Aslak Tveito.
"The most important thing we have done is to cultivate the women we actually have. They are flourishing, and when they flourish, they grow in number, and we improve," he states.
"The prize money will be used for future efforts in this area, so I'm on rather solid ground when I promise that we will achieve even better balance and even better evaluations."
Translated by Connie Stultz.
Facts
Gender Equality Award
A call for applications for the Gender Equality Award for 2013 from the Ministry of Education and Research was issued on 12 August 2013. The application deadline was 15 November 2013.
The purpose of the award is to encourage the higher education sector and research institute sector to work in an active, targeted and systematic manner to promote gender equality in the workplace.
The award has been presented every year since 2007. The Committee for Gender Balance in Research (the KIF Committee) is responsible for issuing the call for applications, assessing the applicants and recommending a winner to the ministry.
The Gender Equality Award for 2013 goes to Simula Research Laboratory. This is the first time that the award has been presented to a research institute.