"Need gender balance among centre directors"
Less than 15 percent of grant applications for Centres of Excellence designate a woman as the centre director. A new master's thesis looks at gender differences in research funding.
In her master's thesis titled Gender, Excellence and Academic Research Funding, Kristine Miland has compared statistics from two of the Research Council of Norway's funding programmes – the Centre of Excellence (CoE) scheme and the Funding Scheme for Independent Projects (FRIPRO) – and has studied the gender balance among those who apply for and those who are awarded status as centre directors.
"The Centre of Excellence scheme has very few female applicants in relation to the number of female professors," says Miland.
Among the proposed centre directors in the CoE applications that Miland studied, less than 15 percent were women, while the FRIPRO applications had slightly more than 29 percent women named as lead researchers.
The success rate for FRIPRO applications was almost 12 percent for both men and women, while female researchers had a higher success rate than men for Centre of Excellence grants, with almost 13 percent as compared with slightly under 9 percent.
Most applications from mathematics and natural science
On the face of it, the gender differences in the CoE applications were not so great until Miland divided them up by research field and saw that the "hard sciences" stood out from the rest.
"The share of women researchers in mathematics and natural science who receive funding is larger than the share of female applicants and the proportion of women in the entire field."
"This is a male-dominated field, but there were so many female applicants from these subject areas that the gender balance seemed overall to be fairly even from year to year. In other fields, there are very few women who apply for funding," says Miland.
"Mathematicians and natural scientists comprise over half of all the applicants to the first three CoE funding rounds, and this could be an interesting basis for further research. What is it about researchers from these subject areas that leads them to identify with terms such as 'excellence', or at least that they don't think the threshold is too high for them to submit an application?"
"Are women in fields dominated by men exceptionally talented or is there something about the term 'excellence' in itself that triggers something different in researchers from various fields?" asks Miland.
"No gender discrimination in the assessments"
Using organizational theory as her point of departure, Miland discusses various theories about how the many small instances of gender discrimination that women encounter throughout their careers as they work to reach professor level take a significant toll over time. When women have finally come so far that they have achieved professor status, they have gradually learned behaviour in the organization that in turn has resulted in new behaviour – in this case, whether they choose to submit an application to the funding programmes.
Miland's hypothesis is based on the idea that this learning throughout a long research career can help to explain why men and women respond differently to terms such as "excellence". While the CoE scheme explicitly uses the word "excellence" in the title, the FRIPRO scheme does not.
"The calls for proposals are based on a few specific criteria, and the understanding of terms such as 'excellence' or 'scientific quality' can vary from person to person. A limited number of concrete criteria can give rise to what is known as 'homosocial processes' – meaning that those who sit on selection committees prefer candidates who resemble themselves. There's not necessarily anything wrong with this, but there are, after all, mostly men on these types of evaluation committees," says Miland.
"This is what I thought I would find, but it turned out not to be the case. My results don't show that the assessment processes in the CoE and FRIPRO schemes systematically discriminate against women. But this doesn't prevent gender discrimination from occurring at lower levels, which can lead to a situation where women choose not to seek funding from these schemes."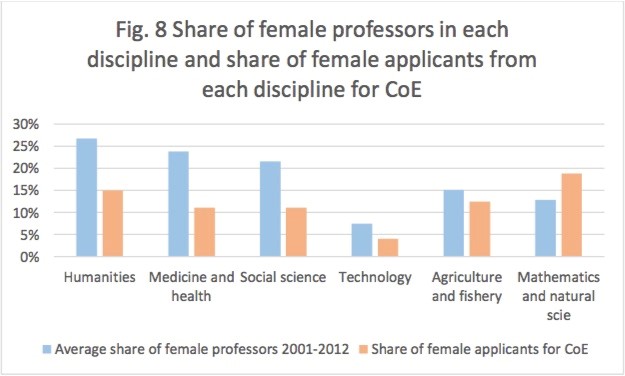 "Managers are also role models"
According to Miland, it is important to aim for gender balance among the management positions at the research centres, in part because it is a democratic principle that both women and men should be represented.
"Therefore, something is amiss when Norwegian and European research groups keep repeating that scientific quality must be used as the basis for selection. I assume that scientific quality and the ability to conduct research is distributed evenly between men and women, so in that case you would think that the genders would be represented equally, including among CoE directors," says Miland.
"It seems there is something else in the process that leads to gender differences in the CoE and FRIPRO applications, so it can be worth looking closer at which factors come into play earlier in people's research careers."
Miland notes that gender balance is also important because female directors in research groups may have symbolic value as role models for other female researchers.
"In order to decide what you will apply for, you usually look at who has been granted funding in the past. You can get a picture of who gets rewarded, for example by looking at the CoE allocations, and this may affect future potential applicants."
"Vague criteria give a lot of power to the evaluation committees"
Miland hopes to use her master's thesis to reach out to researchers who are considering applying for funding, as well as to the Research Council, which she believes is already aware of the problem and is working to increase the number of female applicants. She also wants to generate discussion and raise awareness of this topic at the institutions, universities, university colleges and research institutes where women work as researchers.
"I hope my thesis can add to the discussion about what actually constitutes 'excellence' and 'scientific quality'. Many take the position that scientific quality is something you recognize when you see it and that it can't be defined. Based on the literature I've read, I think this approach can be harmful because it allows many other factors to play a role in assessments and applications and whether a researcher decides to seek funding at all. Unclear criteria give a lot of power to those who decide on the grant allocations," says Miland.
"Other studies have shown that women do better with funding programmes in which the criteria are clear and those who make the decisions are held responsible. Scientific quality is not objective, although it's treated as if it is, including in the CoE scheme. This then sends a signal to the rest of the Norwegian research community about whose work is excellent and whose is not."
Little research on funding
Miland says that the reason she chose to study who applies for funding and who is granted status as centre directors in the Centres of Excellence scheme, using FRIPRO applications as a basis for comparison, is that the centres have an important symbolic role and receive a great deal of media attention.
"They are held up as a kind of standard-bearer in Norwegian research, which corresponds with the intention when the scheme was first established," says Miland.
She believes the CoE scheme is especially interesting because the gender balance among the centre directors is very poor. In the most recent CoE funding round, none of the centres was directed by a woman alone, while two of the ten new CoE centres were directed by a woman in cooperation with a man.
"During my work with the thesis, I chose to look at centre directors in particular, and not gender balance at the centres as a whole. Numerous reports show that the gender balance of the entire centre can often be much better, but the senior-level management is generally only men," says Miland.
"There is a lot in the area of gender and academia that I could have written about, but research funding stood out as an under-researched area. I think this is strange because it's very important," says Miland.
Translated by Connie Stultz.
Men produce twice as many scientific publications as women. At least that's the long-held assumption. But Lynn Nygaard, a special adviser and doctoral research fellow at PRIO, challenges this widespread belief in her recent article.
Sexual harassment, the #MeToo movement, a radical suggestion to improve the gender balance among Nobel candidates, and the problem with white campuses. Read our top ten news articles from 2018.
Right-wing populism has infiltrated the EU and is challenging gender equality values in European research, according to the Czech sociologist Marcela Linkova. She wants to put gender on the map in the new research programme Horizon Europe.
Academic freedom is threatened by authoritarian right-wing populism in countries in Europe and Latin America. Listen to a podcast discussing why this matters to women's rights.
Many believe it is difficult to reconcile demands for gender equality and measures such as moderate quotas with academia's conception of quality. This is according to a new master's thesis on assessments and gender in hiring processes for senior-level positions.
The legacy from colonialism characterises Norwegian academia. Now, Norwegian researchers want to examine their own disciplines and include non-western perspectives in the academic institutions' scholarly production.
Racism has become more visible in the UK after Brexit, and is seen in academia as well. This is according to diversity researcher Kalwant Bhopal, who is coming to Norway in November for a conference on diversity.
We have asked stakeholders in the sector about the status of research on sexual harassment in Nordic academia in the wake of #MeToo.
Research on sexual harassment:
A new working group will document the extent of sexual harassment in Norwegian academia. Now Sweden is encouraging Norway to follow its lead and set aside money for research in this area.
Male post-docs and PhD candidates work more than their female colleagues, but female professors work the most hours of all, according to the latest time use survey.
The Ministry of Education and Research will nonetheless assess whether a greater focus on gender balance and the gender dimension is needed in the EU's new research programme. The Research Council and the KIF Committee are cautiously optimistic.
As it stands today, sexual harassment cases must be heard in the courts. Now many are applauding the decision to provide a low-threshold option that will ease the burden on victims.
For the first time ever, preventing sexual harassment is a main goal in the University of Oslo's action plan for gender equality.